About Sensei Dombeck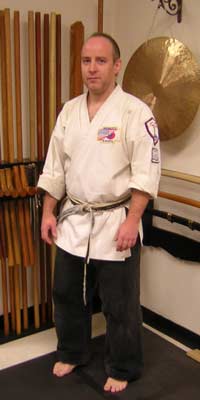 Shihan/Sensei John Dombeck, Ph.D. is the Head Instructor of Budo, the first Yamashita-Ha Shorin-Ryu Karate-do school in Minnesota. He has over 20 years of experience in the study and teaching of the style, and has been teaching Shorin-Ryu Karate-do, Kobudo (traditional weapons), and personal Self-Defense Workshops in the Twin Cities of Minnesota (Minneapolis/St. Paul) since 1998. He also holds a Ph.D. in Physics from the University of Minnesota.
Dr. Dombeck brings his dedication to tradition and quality to Budo, setting us apart from the commercialized "American-style" karate studios that often emphasize trophies and looks over practical effectiveness and quality. Budo class sizes are small and we have students of all ages and levels of ability, making our classes open to anyone who wants to learn.
| | |
| --- | --- |
| Master Yamashita, O'Sensei Schroeder and Sensei Dombeck | |
Shihan Dombeck is currently a Go-Dan (5th degree black belt) in Okiniwan Shorin-Ryu Karate-do and a Yo-Dan (4th degree black belt) in Okinawan Kobudo (weapons).
Budo is also an active part of a larger family of tradition. Sensei Dombeck's sensei is Hanshi Daniel Schroeder (9th Dan) in Milwaukee, Wisconsin, and his sensei is the world renowned Master Tadashi Yamashita (10th Dan).
Students at Budo are given the opportunity to augment their training through special seminars with both O'Sensei Schroeder and Master Yamashita several times a year.