Family Instruction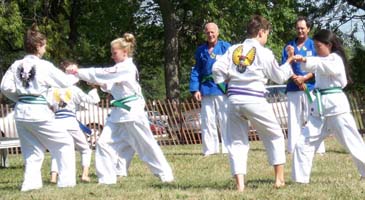 Budo is about improving life. (See What is Budo). Adult life is much longer than childhood. This is one of the main benefits of training at Budo -- while the benefits to children are better than at most Martial Arts schools, the focus of our training is really on Adulthood.
Further, the best way to improve a child's life is to help the parent's life. This is what our training does. The child whose parent studies our Art, has a huge advantage in life not just because of Martial Arts training, but because their parent is more capable in life. (See more about our Family Philosophy).
We do this by having parents and children in their own classes on the same days, some at the same times. (See more about our Family Philosophy). Each learns the skills that are most important to them, in a way that is best suited to them.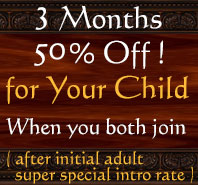 We so believe so strongly in the benefits of children and parents both training that provide a huge discount to children whose parents also train. In particular, we give a continuous discount of $10 off each month for all family members that studies at our school. Additionally, when the parent and a child sign up together for 3 months (our standard initial program) the child's 1st 3 months are 50% Off!
To take advantage of this Sign-Up Today! Simply sign-up the parent, and let us know (by email, phone, text or in person) that you'd like to have your child start as well. For larger families, simply signup everyone (except for one child per parent) at the standard discounted rates online, contact us with the details of your family, and we'll issue a refund for the additional family discounts. (See Family Programs for details on all familiy discounts. We look forward to seeing your family. Click Here to Sign-Up Now!
Learn more about our ...